Companies operating in the "Automotive" sector have high demands on the packaging of their products, because on the way to the customer packaging materials should be protected against transport damage and environmental influences. Adhesive tape meets the highest demands of strength and safety and is adaptable to the specific needs of your company and your logistical demands. Labeling technology from HADE provides an product variety and has been developed for practical use.
We supply adhesive tape dispensers and label dispensers as well as a wide range of packaging materials and accessories for all needs in the field of supplier parts, products or services in the automotive industry
Specifically, we believe in a value-preserving and safety-creating "wet tape" closure system that is 100% eco-friendly in manufacturing and disposal, as all components are made from natural and biodegradable materials. Wet adhesive tape, which is processed by machines from HADE, is based on vegetable substances - the glue itself which is pure starch, is renewable and can be activated only once by water.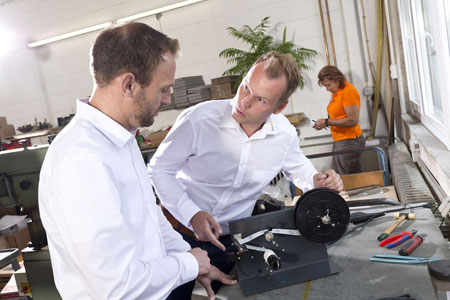 Die Stärken von Nassklebeband
Nassklebeband ist unempfindlich gegen Kälte, Hitze, Licht oder Feuchtigkeit. Pakete werden versiegelt, da das Nassklebeband durch die Verarbeitung und Zugabe von Wasser eine permanente organische Verbindung zum Karton aufnimmt. Dadurch wird ein Karton nicht nur sicher verschlossen, sondern auch zuverlässig versiegelt. Nassklebeband kann nicht zweimal verwendet werden und zeigt nach der Öffnung des Paketes immer deutliche Spuren. Ein Überkleben ist zwar möglich, aber z.B. durch individuellen Druck dann immer als "Siegelbruch" erkennbar.
Ihre Kunden können sicher sein, dass ihre Bestellung während des Transportes nicht manipuliert, entnommen oder durch Dritte beschädigt wurde.
Sicherheit
Nassklebeband kann durch Faden- und Materialverstärkung individuellen Sicherheitsbedürfnissen angepasst werden. Der Versiegelungscharakter kann auf Wunsch durch den Aufdruck von Firmenlogos oder sonstigen Kennzeichnungen verstärkt werden. Das macht Nassklebeband zu einem diebstahlsicheren Verschlusssystem, denn ein unbefugtes Öffnen Ihrer Gepäckstücke bleibt nicht unentdeckt.
Umwelt und Verarbeitung
Nassklebeband kommt in Verantwortung für die Umwelt ohne Farb- und chemische Zusatzstoffe aus. Der Klebstoff basiert auf Stärke, die durch das Anfeuchten/Beleimen für eine feste und nicht lösbare organische Verbindung sorgt. Zur Verarbeitung sind weder Schutzkleidung noch sonstige Vorsichtsmaßnahmen notwendig. Im Gegensatz zu üblichem Selbstklebeband ist Nassklebeband Teil der Wertstoffkette und kann mit der Kartonage im Altpapier entsorgt und wiederverwertet werden - 100% biologisch abbaubar und recyclebar.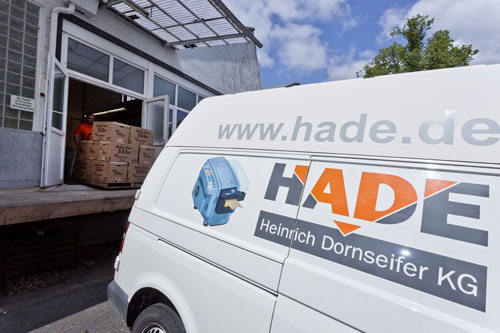 Wet tape is resistant to cold, heat, light and moisture. Packages are sealed because the wet tape creates a permanent organic bond with the cardboard through the processing and with the addition of water. As a result, a box is not only securely closed, but also reliably sealed. Wet adhesive tape can not be used twice and always shows clear marks after opening the package. Gluing is possible but the broken seal is always visible.

Your customers can be sure that their order has not been tampered with, removed or damaged by third parties during transport.
 
Safety
Wet tape can be customised by thread and material reinforcement to meet individual security needs. The sealing character can be enhanced if desired through the imprint of company logos or other markings. This makes wet tape an anti-theft locking system, as unauthorised opening of your luggage is always detected.
Wet tape is environmentally friendly without any colour and chemical additives. The adhesive is starch based, which provides moistening / gluing for a solid organic compound. No protective clothing or other precautionary measures are required for processing. In contrast to conventional self-adhesive tape, wet adhesive tape is part of the recyclable material chain and can be disposed of with the cardboard and recycled - 100% biodegradable and recyclable.
Your contact person
Please give us a call - we will gladly arrange the right contact person who will be responsible for your product and your region.
Tel.: +49 - (0) 2371 - 95999 - 0
Callback service
We are happy to call you back on the desired date - Please agree topic and time
Tel.: +49 - (0) 2371 - 95999 - 0
Equipment & Machines from HADE
We supply adhesive tape dispensers, labelling technology, price labellers, packaging materials and accessories for packaging wholesalers.  
A core component of HADE is the further development and maintenance of products for the processing of wet adhesive tape. Nearly all product lines of the modern packaging industry are part of our product portfolio, and we are happy to focus on the processing of wet adhesive tape in our consulting and customer management. The processing of wet adhesive tape is the area in which company founder Heinrich Dornseifer laid the foundations of our company's market leadership, as early as the 1930s, through innovative product development. We are the sole importer of equipment and machinery of the US Better Packages Inc. for continental Europe.