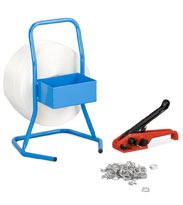 With polyester band. Extremely robust, to be compared with steel band of polyester-reinforced textile fiber. Flexible and elastic, no cutting of the load. Resistant to water and many chemicals. Temperature resistant from -40 ° C to + 125 ° C. The tensioner tightens and cuts the tape. Self-locking metal clips. Set consisting of:
Power chuck for bandwidth 13-19 mm
Tape dispenser with storage compartment for roll width x core-Ø 155 x 76 mm
2 coils Kraftband width 13 mm, length 1100 m or width 16 mm, length 850 m
1000 metal clamps 13 or 16 mm
All components can also be ordered separately!